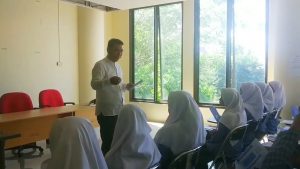 Warung Prancis of Tadulako University gave a socialization of scholarship and the culture of France to the students of Madrasah Aliyah Swasta Putri Aisiyah Palu high school on August 9th 2019 with the main speaker, Prof. Ir. Syukur Umar, DESS who is also the alumnus of France University. It was also attended by two teachers of the school; Herningsih, S.S (French teacher) and Ratna Ningsih, S.Pd (Cultural Arts teacher).
This socialization was opened by the head of International Office of Tadulako University,Prof. Marsetyo, M.Sc.,Agr.Ph.D as he gave such great motivation and some information about how to get scholarship abroad generally to the students coming. Moreover, he briefly informed about the education and his experience when he studied abroad to attract students to be able to study hard and get degrees overseas.
The students attending the socialization were asked to give some specific reasons about why they want to be in France and given general information about France including the scholarship, culture and even some stories of the country by the speaker who is also the lecturer of Forestry Faculty in Tadulako University. Besides, he also told about his experience when he was in France to pursue degrees and how is the life in France as well. Furthermore, the coordinator of Warung Prancis, Happy Puspitasari S.S gave additional information about Warung Prancis and also led the students to see some books about France in Warung Prancis room at the International Office of Tadulako University. As a result, the students attracted to ask some information of how to access and be able to get the information of scholarship in France updated as well.