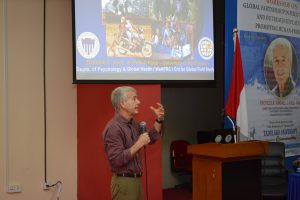 On January 23rd 2019, International Office, Universitas Tadulako invited Professor Randall Kyes from University of Washington to hold Workshop on"Global Partnership in Field Training and Outreach Education: Promoting Human-Primate" as a part of collaboration implementation between Untad and University of Washington
This workshop aims at the promoting human-primate coexistence and how to figure the conflict between human and primate out in some regions. There are some areas over the world where the people living in those areas still consume and hunt primates. Those places are become the objects to be observed considering the unhealthy lifestyle between human and primates. Two programs which have been applied are used to measure whether they are successful or not.
1. Field Training Program is focused on three cases; infection, human-primate conflict and population size where the researchers and some people coming from different countries who join the field training and do the survey of primates every year in some regions over the world.
2. Outreach Education Program simply gives a course to build a self-awareness and an understanding of the relationship for the global health to the children who live in those regions.
Milestones and Metrics are used to evaluate whether those two programs are successfully applied or not by looking at the data collecting in bar chart of the macaque's population survey.
The programs can be said successfully applied even though the population of primates did not increase significantly over the thirteen years; 2005-2018 after conducting the field training and course given. In conclusion, the program is to promote and educate the local people about how to keep safe and healthy life between humans and primates without destroying them
Reported by: Ana and Gaby-International Office Untad 2019
Please visit the news in our Youtube channel