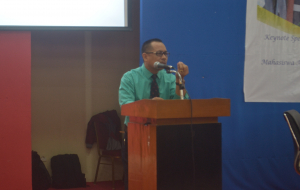 Located at the theater room of Tadulako University, International Office held a scholarship workshop with theme "introduction to foreign scholarships, higher education system and cultures". The seminar was open for public (12/10/16) attended by Rector of Tadulako University and several foreign students; Bartnik Arkadius (Poland), Kotaro Oda (Japan) and Loay Mohammed Serageldein (Egypt). The seminar also presented speakers with successful overseas scholarships applicants: Aiyen Tjoa and Rachmania (Alumni of Victoria University of Wellington New Zealand). In addition, Happy Puspitasari, S.S. as the representatives of 'Warung Prancis' Program of Tadulako University shared information about scholarships to study in France.
In his opening speech Rector of Tadulako University, Prof. Dr. Muhammad Basir, SE., MS, expressed his appreciation for the implementation of the seminar. The rector also encouraged students of origin of Central Sulawesi especially students of Tadulako University to compete in getting the opportunity to get scholarship and experience of studying abroad, as well as foreign culture.
Meanwhile the head of International Office Tadulako University, Prof. Ir. Marsetyo, M.Sc., Agr., P.hD in his speech said that the presence of seminar was expected to ignite students' motivation to get experience of foreign education and culture.